MI's quest for their first win of IPL 2022 continues as they take on PBKS at the MCA Stadium in Pune on Wednesday.
Mumbai Indians have been sloppy and yet to hit their stride this season, and Rohit Sharma and Co. have shown adversity in the games and lost four out of four games sitting in the last place on the table. The bowlers have failed to exert their impact, which has led to MI losing the games.
PBKS had their fair share in IPL, winning two games out of four, and in the last games, they failed to defend the score against Gujarat Titans and were outclassed. PBKS can bounce back in this fixture and return to winning ways by taking advantage of MI's poor form.
Now we take a look at their last five head-to-head games
#1 PBKS defeated MI by 7 wickets
Mumbai Indians were too slow for the PBKS bowlers as they made an embarrassing target of 131 in 20 overs, with Rohit Sharma being the hope of the team, slamming 63 runs off 52 balls.
Punjab Kings' Lokesh Rahul and Chris Gayle completed the match within 17 overs as Lokesh scored 60 and Gayle 43, chasing down the target without any trouble.
Punjab: 1, MI: 0
#2 Punjab beat MI in the second one-over eliminator
MI went all guns blazing in the first innings, and their batting proved too much for the Punjab kings' bowler. MI went on to score 176 runs, with Quinton de Knock hammering a half-century off 43 deliveries.
Punjab Kings' Lokes Rahul stepped up on occasion and gave MI bowlers a hard time, but Bumrah dismissed him; the MI bowler was in rampant mode and took three wickets. Regardless Punjab chased down the exact target as the game ended in a draw.
The match went to super overs, and Punjab Kings chose to bat, scoring only five runs, which MI they found hard to chase as they fell short and lost the game.
Punjab: 2, MI: 0
#3 MI defeat PBKS by 48 runs
PBKS bowlers had to go through MI batters' agony with skipper Rohit Sharma, making them the victim of his batting prowess as he hit 70 off 45 deliveries and gave PBKS a taxing chase of 191/4 runs.
PBSK couldn't cope with the pressure as their wickets kept falling, and MI bowlers managed to find flaws in their batting, restricting them to only a few runs; PBKS showed their frailty and failed to chase down the target ending the game with only 143 runs.
Punjab: 2, MI: 1
#4 MI drub PBKS by 3 wickets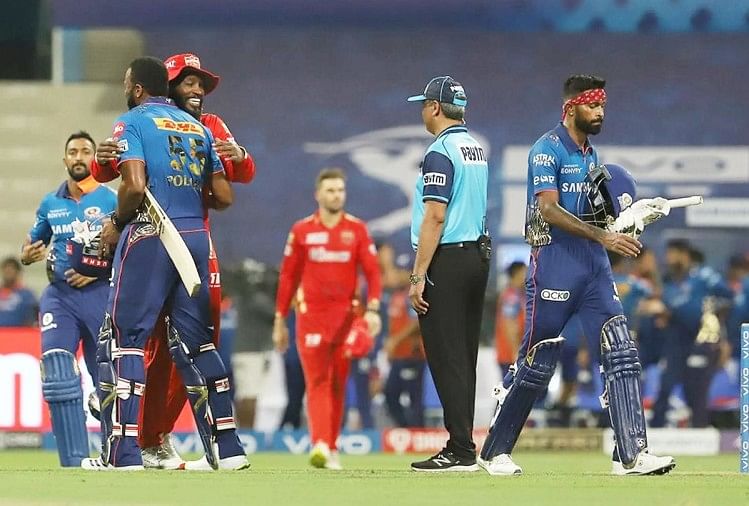 In the first innings, Punjab produced a world-class batting with their two prolific batsmen, Lokesh Rahul and Chris Gayle, showing no remorse towards MI bowlers as Rahul completed his full century off 64 balls, not out, while Gayle belted 63 runs off 36 balls as PBKS gave MI a strenuous chase of 197/4.
Although it looked like a difficult pursuit, MI batter Kieron Pollard went all bonkers on PBKS bowler as he smashed 83 for 31 while other batters also complemented Pollard to help MI achieve the target successfully.
Punjab: 2, MI: 2
#5 PBKS rout MI by 8 wickets
MI produced a satisfactory batting in the first innings, with Quinton de Kock being the hero of MI in the batting department, scoring 60 in 39 balls and giving PBKS a tricky target of 176/7.
Once again, PBKS talisman Lokes Rahul rose through the ranks and smashed 71 in 57 deliveries, while other batters also contributed to pursuing the target of 176 runs with 9 balls to spare.
Punjab: 3, MI: 2