The T20 World Cup is just a few months away, and the Indian cricket team will be the favorites going into this tournament. However, we could see few young talents make their way into the national team.
And a big thanks to IPL, which has given many young talents to illustrate their worth. In past years many talented players have represented India; over the years, the likes of the Pandya brothers and pace sensation Jasprit Bumrah are the testament to it.
And this year, India will also have plenty of players to select before they fly to Australia. And the new emerging talents in IPL this season have been monitored by the Indian team, which could get a ticket to the national team, and below, we list them down.
#1 Rahul Tripathi
The Maharashtrian right-handed batsman has been an elegant batter who can take on any bowler. He is very calm and composed with his batting and consistently dominates the bowler. Rising Pune Supergiants first spotted him in 2017, where he impressed former Indian skipper Dhoni; after the dilution of the franchise, Rajasthan Royals made a bid for Tripathi in 2018.
Although his performance waned and he became a one-season wonder. But KKR showed interest in him in 2020, but it was the same as well. After moving to SRH, he found his mojo back and is now a vital batsman for the SRH. He has scored 205 runs in just six matches and averages 51.25, which he used to make in the entire season.
#2 Tilak Varma
The 20-year-old left-handed batsman is playing his first IPL of his career and has impressed the players so far. He made his first debut in the cricket world in the 2018–19 Syed Mushtaq Ali Trophy on 28 February 2019.
Tilak Verma exploded onto the scene when he featured in 16 List-A games slamming 784 runs and picking 5 wickets in the tournament. He is best suited for the T20 games. His stats are a testament to it. In 2021 he smashed 139 against Delhi in the Vijay Hazare Trophy.
This made Mumbai Indians splash INR 1.7 crores on the Under-19 star N Tilak Verma. Although MI have lost all seven games, the 20-year-old sensation proved his worth donning in Mumbai Jersey as he scored 235 runs in just seven games for Mumbai with an average of 46.80.
#3 Umran Malik
The 23-year-old Speedster found a breakthrough at a very early age in cricket. Until 2017, he was uncertain about his future and practiced at Azad Cricket Stadium in Jammu. He impressed his coach and was called to practice every day.
After making his impression on his instructor, he was recommended to the SRH committee, and from there, he evolved into one of the best bowlers in India. Although he played only three matches, picking only two wickets for SRH in his first season in IPL 2021.
But in the 2022 IPL, he finally hit his strike; despite not having a great start in the initial matches of IPL 2022, Umran Malik now has nine wickets to his name in six games with an economy of 8.74. since then, he has been in talks and impressed Indian bowler Harbhajan Singh who wants him to play in the upcoming T20 World Cup.
#4 Shahbaz Ahmed
The 27-year-old left-handed batsman made his cricket debut in the 2018–19 Vijay Hazare Trophy. Although he had steady progress, Ahmed believed in his guts and continued playing cricket.
The positive side was his batting expertise transformed him into a power-hitting player. As in his 13 first-class matches, he amassed 559 runs, and later, In List-A cricket, he belted 435 runs in 16 innings with an average of 39.54
This caught the eye of Royal Challengers Bangalore, who bought him in 2020. But he played only twice for RCB in 2020 next season, next season he featured in 11 games scoring only 59 runs. But this season, the 27-year-old has made amends and notched up 171 runs in just seven starts at an average of 42.75.
#5 Ayush Badoni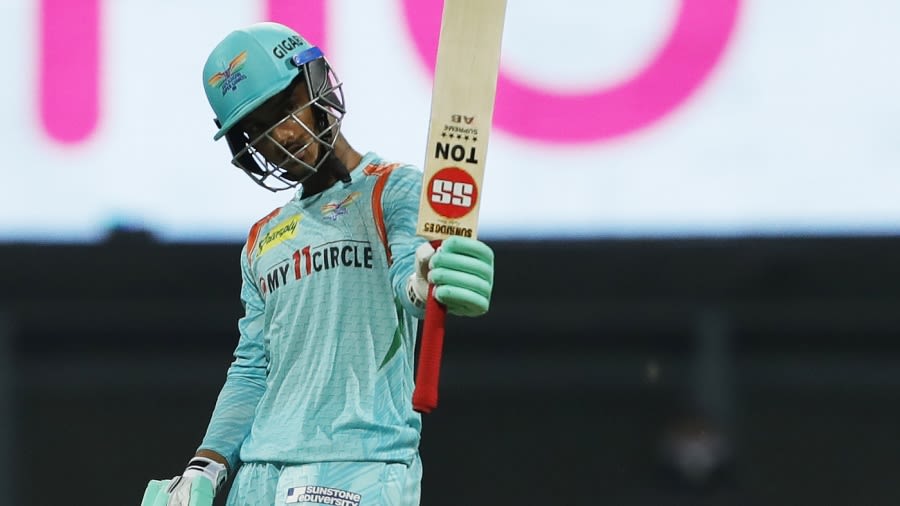 When Ayush Badoni played his first match, it looked like the guy would get out under pressure. But the 23-years-old stood tall in front of the wicket and propelled LSG to a total of 158/6 from their 20 overs, as he completed his half-century of 54 runs off 41 deliveries of a sensational strike rate of 131.7.
Since then, Ayush has become a marquee player for LSG and has started every match for them in IPL 2022. But if we look at his past experience, the LSG batsman had only fared in five T20s for Delhi when he made his debut in the 2020/21 Syed Mushtaq Ali Trophy in January 2021.
Ayush played in U19 before making his debut for Delhi in domestic cricket. Since then, Badoni has never looked back and is thriving on this most prominent stage. Having played seven matches for LSG, he has scored 120 runs at an average of 30. And it's obvious he will be under the radar of the Indian cricket team for the T20 World Cup.