Every game turns into a most entertaining contest when the match reaches its culmination and the intensity of the game increases. And in IPL, the match changes its momentum during the last over as the player has to make as many runs as he can; that's where the fans glued themselves to TV until the last ball of the last over in IPL.
The batters try to score runs around the park as the pressure mounts to post a good target for their opponents. And with this, we take a look at the highest target achieved in the last over.
#5 21 runs- RCB vs PWI 2012
In 2012 Pune Warriors India clashed against formidable RCB. The match delivered a lot of entertainment as Pune selected to bat first and showed great batting skills in the first inning. Posting a 182 on the scorecard thanks to Robin Uthappa's 69 runs and Jesse Ryder's 34 runs helped the team achieve a great target alongside Ganguly and Marlon Samuels who also contributed a quickfire in the last over of the game.
In the second inning, RCB got to a shaky start with 73 runs in 12 overs. Tillakaratne Dilshan Mayank Agarwal and Virat Kohli were dismissed. Then came Saurabh Tiwary, who turned the fortunes and partnered with Chris Gayle to keep the team in contention.
But Gayle was sent back as well, scoring 81 off 48 balls. RCB then needed 21 runs in the last six balls, and Tiwary was on strike. He took a single in the first ball, and AB slammed single four and two massive sixes to put the game to bed.
#4 21 runs MI vs KKR 2011
One of the most exciting matches of 2011 was when MI played against KKR in Eden Gardens in front of 70,00 spectators. KKR chose to bat first and scored a decent 175 runs, with Jacques Kallis scoring 59, Manoj Tiwary, and Yusuf Pathan contributing a total of 30 runs.
Mumbai got off to a bad start as T. Suman was sent back to the pavilion early in the game. Harbhajan Singh and Sachin Tendulkar provided much-needed help to give the team 70 runs in the 9th over. MI sustained another wicket of Harbhajan and Sachin. Rohit Sharma was also dismissed soon; then Pollard ignited a little hope stitching (18 off 22) alongside James Franklin (45* off 23).
Subsequently, Pollard's scumbled, and MI's hopes of pursuing the target wanned, but the arrival of Rayudu made sure MI exerted iron control as MI needed 21 runs off six deliveries. Franklin's four consecutive fours and a single, then Rayudu hit straight to the stands gave the team a thrilling win.
#3 21 runs DC vs KKR 2009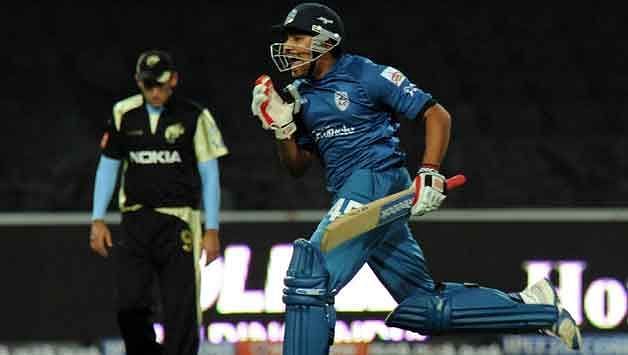 This match was still in many fans' memories when Deccan Charges went absolute beast in those years of IPL. But in that season, the team hit adversity, and a match against KKR could help them back to their form.
KKR chose to bat first and posted a mediocre target with the help of Brendon McCullum (20) and Sourav Ganguly (33), while Brad Hodge (48) and David Hussey (43) complemented the former batsmen in the middle order.
With 161 to chase Deccan Chargers' Adam Gilchrist (43) and Herschelle Gibbs (28) did their part before coming back to the pavilion. Then T. Suman and Andrew Symonds accompanied each other to ease the pressure off the team, and the match reached its culmination, where 21 were needed in six balls.
Rohit Sharma was on strike, Mashrafe Mortaza's first ball was no-ball, which Sharma slammed a four, and the next two were singles. On the third ball, Sharma belted a six while the next ball was wide. In the fourth ball, the team made two quick runs, and in the last two balls, Rohit Sharma put away a four and a six to claim an enthralling victory.
#2 22 runs GT vs SRH 2022
In the recent encounter between GT and SRH, the match turned into an action-packed game. SRH put up an excellent target of 195, with the help of Abhishek Sharma's (65) and 56 from Aiden Markram, while Shashank Singh made an impressive (25*off 6).
It was a hard target to chase but not impossible, and GT had a fine start when Wriddhiman Saha and Shubman Gill dovetailed 69 runs. Although it did not continue for a long period as Umran Malik dismissed gill. The other batters, Hardik Pandya and David Miller couldn't merit, but the introduction of Saha changed the momentum of the match after his terrific 68 from 38 from Saha, keeping GT into this contest.
Once again, it all came down to Rahul Tewatia while Rashid Khan was on the other side, and 22 needed off six balls. In the first ball, Tewatia hit a six and went for singles in the subsequent ball, while in the next four balls, Rashid Khan scored maximums to secure a victory.
#1 23 runs RPS vs PBKS 2016
Rising Pune Super Giants gave PBKS a run for their money despite not making it to the play-off as former Indian captain MS Dhoni pulled a scintillating performance against PBKS. PBKS posted 172 on the scoreboard, with Murali Vijay and Gurkeerat Singh Mann making a half-century, respectively, and a 30 from Hashim Amla.
RPS marred their chances in the start with the early dismisses of Ajinkya Rahane (19) and Usman Khawaja (30). And the middle order also came short of providing helping hands. The introduction of Dhoni and Thisara Perera turned things around as they propelled a quick 58-run stand between each other, and the match reached the last over with 23 needed in six balls with Axar Patel against Dhoni.
The first ball was a dot, while the second was wide, and the third was sent straight to the stands, fourth was another dot ball, and pressure almost got the better of Dhoni before he hit four and two sixes in a row to hand RSP a massive win over PBKS.
Do let us know your thoughts in the comments. Also, stay tuned with Cricwizz for all the latest and exclusive content revolving around the 15th edition of the Indian Premier League. Do follow our social media handles for intriguing stats and updates.
Cover Credits: IPLofficial